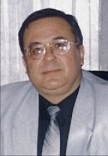 Intertrade JSC is a private joint stock company, founded in 1992. Its activities are separated in three directions:
1. Machine building — design and production of packing machines, water heaters, candle production machines, advertising equipment and etc.
2. Electronics — design and production of microprocessor systems for automation.
3. International trade — excellent trade contacts with Russia, Belarus, Ukraine, Estonia, and other countries from the Union of the Independent Countries; many trade affairs with Germany, Yugoslavia, Turkey, Macedonia and other European countries are carried out.
The company has more than 65 employees and a big part of them are engineers; the other large part are experienced and highly qualified workers. The items are produced in own workshops, equipped with proper machines and equipment for metal cutting, welding, curving and pressing; electronic devices and appliances, computer systems, connected in a local area network and in this way communicating with the worldwide web.
The company's policy is rapidly and constantly to invent new items and to develop the ones under production, still keeping competitive prices and short terms of production and fulfilling the orders.
From the time of its foundation until now, the company is managed by Mr. Milcho Christov Tzonev, doctor of electronics, who is the main shareholder.
The company carries out active marketing policy, characterized with an ambition to fulfill any individual requirements and demands of the customers as well as with readiness for cooperation with other companies, based on mutual interest.